WHO WE ARE
Bosque Church is a creative community fostering personal fulfillment and universal connectedness, manifesting a kinder and more loving world.
WHAT WE DO
We practice open-hearted and open-minded spiritual realism, explored through the Science of Mind philosophy, New Thought, ancient wisdom, and our own immediate relationship with the Divine.
HOW WE DO IT
We provide supportive structures in which we can do our work together with authenticity, mindfulness, and compassion. These include weekly Sunday services, classes, art and music, care and counseling, and sacred service within and outside the Bosque Church community.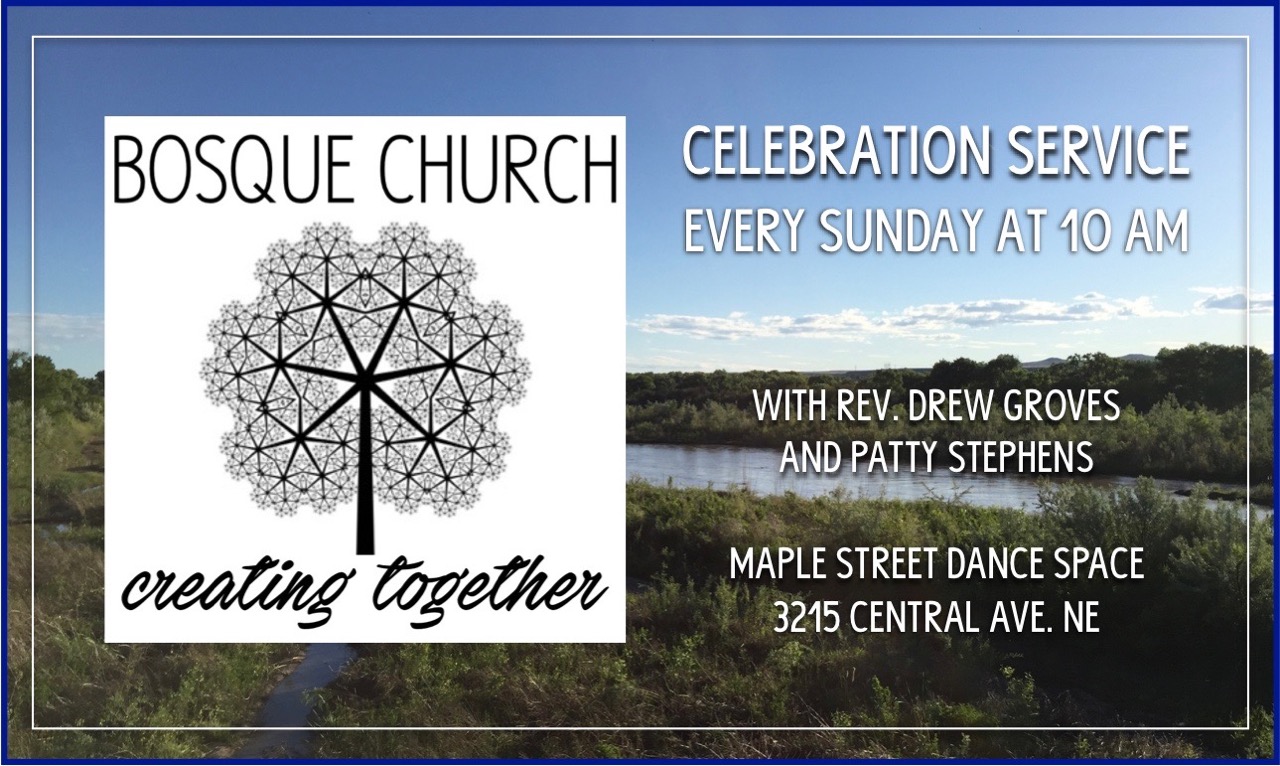 CELEBRATION SERVICE EVERY SUNDAY @ 10 AM!
We are so pleased to be holding our Sunday Celebration Services at Maple Street Dance Space in historic Nob Hill! Maple Street is on the north side of Central Avenue between Wellesley and Bryn Mawr Drives, and between Urban Outfitters and Two Fools Tavern.
Maple Street doesn't have its own parking lot but there should be plenty of street parking available on Central Avenue and nearby side streets on Sunday mornings. There is a small parking lot on the east side of Bryn Mawr Drive, south of Central Avenue, that should have open spaces.
Join us this Sunday, February 25!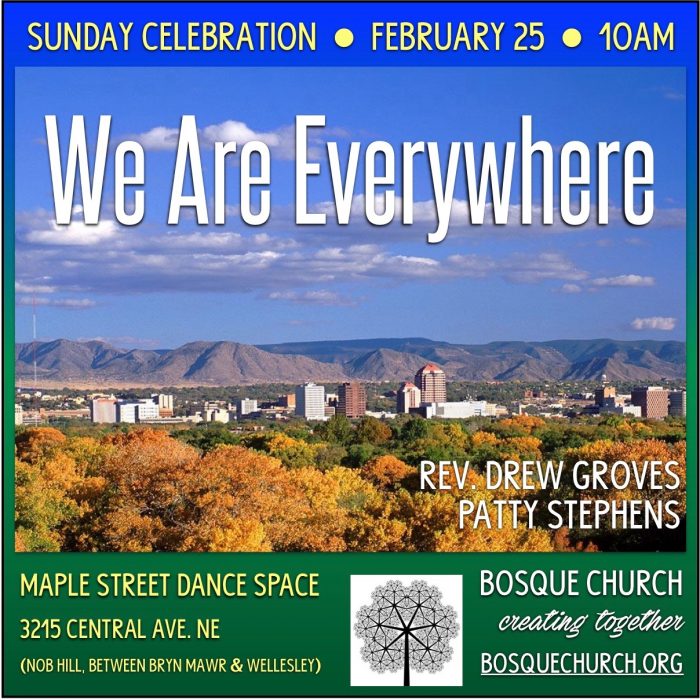 WE ARE EVERYWHERE
"God is an infinite sphere whose centre is everywhere and whose circumference is nowhere."  – Liber XXIV Philosophorum
I've been thinking about how we might cultivate a greater awareness of sacred space all over the place.
It is perhaps easy to recognize the Divine when we're "away from it all" in Nature. And many of us feel our connection with the Infinite when visiting temples, churches, ashrams, and mosques — again, away from the mundane, the distractions of the everyday world. This is lovely, and I'm definitely not knocking the idea that we can set aside special places for worship and celebration and remembrance.
But what if we opened our hearts and minds to the possibility that every place we gather, every way we gather together, is an opportunity for holy communion? What if sacred space were created purely and simply by our intention?
Things have unfolded in unexpected ways for me lately, and I've been reconsidering some of my fundamental assumptions about spiritual community, in particular the idea of what it means to go to church. "Going to church" suggests that church is a place where we currently aren't. Maybe we should talk more about "bringing church" wherever we're at, rather than going someplace else in hopes of finding it there.
In Centers for Spiritual Living parlance, we typically call our our spiritual communities "centers" rather than "churches," but still, they're usually talked about as places we go. Bosque Church is exploring the idea of multi-localized spiritual community — recognizing that it can be everywhere because we are everywhere. Indeed, it's in our weekly Sunday morning gatherings, but it can also be completely present when we're singing together around a fire, marching for equality, serving each other and the world, or socializing at a brewpub. Wherever we are, we can discover that we're on holy ground — invoking Life & Love & Possibility in, through, and as everything that we are together.
Everywhere we are, right where we are, God is.   XO, Rev. Drew
Rev. Andrew graduated from the Holmes Institute and was licensed by Centers for Spiritual Living in 2012. He was ordained in 2015. Rev. Andrew served as Assistant Minister at Albuquerque CSL for 5 years, where he was a beloved teacher, steward, organizational and operations expert, and led a weekly worship service of celebration, praise, music, and laughter.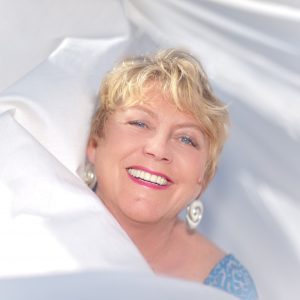 Patty Stephens began singing on her first breath. She has spent her life developing her voice as an instrument and has a passion for community singing and song leading skills that make it happen. In addition to thirty years as a performing musician and music director in Centers for Spiritual Living she has played with the best of the best in New Mexico's Jazz scene and is currently lead singer in the award winning band "The Brazil Project." She is also a faculty member of the New Mexico Jazz Workshop.
Sign up for the Bosque Church mailing list to stay updated on our Sunday services, classes, workshops, gatherings, and community service opportunities.
You can also contribute right from your phone! Text GIVE to 505-207-2231 and follow the instructions